This page provides a listing of all Jane Lindskold's novels, in reverse chronological order.  For specific series, see the appropriate sub-page.
Artemis Invaded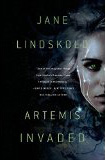 Tor Books, June 2015
Cover Art by Cliff Nielsen
The Universe of Artemis Awakening
More than just a list of titles, this is your gateway to the series.
Click here to open the door.
---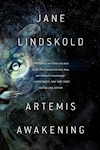 Artemis Awakening
Tor Books, May 2014
First in a new series.
Cover Art by Cliff Nielsen
---
Treecat Wars
with David Weber
Baen, October 2013 (hardcover)
---
Fire Season
with David Weber
Baen, October 2012 (hardcover)
Cover art by Daniel Dos Santos
---
Five Odd Honors
Tor, May 2010 (hardcover)
Cover art by Sam Weber
order paperback – order hardcover
---
Nine Gates
Tor, August 2009 (hardcover)
Cover art by Sam Weber
order paperback – order hardcover
---
Thirteen Orphans
Tor, November 2008 (hardcover)
Cover art by Sam Weber
order paperback – order hardcover
---
Wolf's Blood
Sixth book in the Wolf Series
Tor, March 2007 (hardcover)
Cover art by Julie Bell
---
Wolf Hunting
Fifth book in the Wolf Series
Tor, March 2006 (hardcover)
Cover art by Julie Bell
---
Brother to Dragons, Companion to Owls
Tor, August 2006
Cover art by Patrick Arrasmith
about Brother to Dragons, Companion to Owls
---
Child of a Rainless Year
Tor, May 2005 (hardcover)
Cover art by Gary Kelley
about Child of a Rainless Year
order paperback – order hardcover
---
Wolf Captured
Fourth book in the Wolf Series
Tor, November 2004 (hardcover)
Cover art by Julie Bell
order paperback – order hardcover
---
The Buried Pyramid
Tor, May 2004 (hardcover)
Cover art by Eric Bowman
order paperback – order hardcover
---
The Dragon of Despair
Third book in the Wolf Series
Tor, August 2003 (hardcover)
Cover art by Julie Bell
about The Dragon of Despair
Read a sample chapter
order paperback – order hardcover
---
Wolf's Head, Wolf's Heart
Second book in the Wolf Series
Tor, August 2002 (hardcover)
Cover art by Julie Bell
about Wolf's Head, Wolf's Heart
order paperback – order hardcover
---
Through Wolf's Eyes
First book in the Wolf Series
Tor, August 2001 (hardcover)
Cover art by Julie Bell
order paperback – order hardcover
---
Changer's Daughter
(originally published as Legends Walking)
A Novel of the Athanor
Obsidian Tiger, March 2012
Avon Eos, December 1999
Cover art by Gregory Bridges (Legends Walking)
order trade paperback – order ebook: Amazon – order ebook: B&N
---
Lord Demon
(completion of an unfinished novel by Roger Zelazny)
Avon Eos, August 1999
(Lord Demon was also sold to French, Russian, Hebrew, and Polish markets.)
order paperback – order hardcover
---
Changer
A Novel of the Athanor
Avon Eos, December 1998 (paperback)
Obsidian Tiger, December 2011 (trade paperback)
order trade paperback – order ebook: Amazon – order ebook: B&N
---
Donnerjack
(completion of an unfinished novel by Roger Zelazny)
AvoNova, August 1997
(Donnerjack was also sold to Russian, Croatian, Hebrew, Bulgarian, and Polish markets.)
---
When The Gods Are Silent
AvoNova, June 1997
Cover art by Gary Riddell
about When The Gods Are Silent
---
Smoke and Mirrors
AvoNova, June 1996
Cover art by Dorian Vallejo
---
Chronomaster
Prima, May 1996
(based on the CD ROM game of the same name)
Cover art by Tracy Smith; 3D Models by Doug Ceccarelli and Jason Johnson
---
Pipes of Orpheus
AvoNova, October 1995
Cover art by Kevin Johnson
---
Marks of Our Brothers
AvoNova, June 1995
Cover art by Matt Stawicki
---
Brother to Dragons, Companion to Owls
AvoNova, December 1994
Cover art by Rowena Morrill
(reissued by Tor in August 2006)
about Brother to Dragons, Companion to Owls