Donnerjack
(completion of an unfinished novel by Roger Zelazny)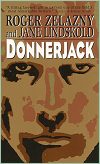 AvoNova, August 1997
(Donnerjack was also sold to Russian, Croatian, Hebrew, Bulgarian, and Polish markets.)
---
Roger Zelazny had been fascinated by human/computer interaction long before cyberpunk arrived and made such fashionable. Coils, his novel with Fred Saberhagen, centered on a man who could interact with computers. Creatures of Light and Darkness and the short story "Halfjack" both investigate how humanity might be changed if it could interact more completely with machines.
When cyberpunk surfaced, Zelazny was interested, but he felt that the concept of the world-wide web was being explored in a fashion far short of its potential. In Donnerjack he investigates the human/computer blending more fully, blending this theme, as was his wont, with elements of myth and legend. Here, the myth of Orpheus and Euridice, and the figure of Tarzan — among many others — come to life in the computer realm of Virtù.
Donnerjack had actually been a work-in-process for several years by the time Roger died, so we had often talked about what he intended to do with the novel. When I finished the novel after Roger's death, I drew on these extensive conversations.